Sorghum dumplings or Joladha Kadubu is popular in the Banahatti region of Bagalkot district, North Karnataka, where this dish is one of the few that are permitted in villages for patients and lactating mothers.
Jolada Kadubu nearly made me break my fast! Let me tell you the story. 🙂
I had recently undertaken a fruit diet. Curious about the food I was eating, my mother in law had begun transforming her diet to a whole foods plant based diet too! *Yippee!*
We were discussing about what to cook for dinner my mother said, 'Let's cook up some Joladha Kadubu!' – a healthy one-pot traditional dish, easy to cook and easy to digest. It is a combination of sorghum dumplings with lentil soup. A few minutes later, a broth was merrily brewing away on the stove, tickling my already enhanced smell receptors! I promised her that I will taste it once I start eating cooked food, and noted down the recipe in detail. It smelled absolutely yummy. If I hadn't controlled myself, I would have finished it then and there! 😀
Sorghum or Jowar is a millet, one of the healthiest cereals. It grows well without irrigation, and was one of the most important crops of North Karnataka until rice and sugarcane took over. The native variety, widely sought after, is whiter than the hybrid one and makes much better kadubus.
Sorghum dumplings or Joladha Kadubu is popular in the Banahatti region of Bagalkot district, North Karnataka, where this dish is one of the few that are permitted in villages for patients and lactating mothers. One reason is because the dish is cooked without oil.
Recipe courtesy : Pushpavati Kulli & Prathima Prashanth, Health Coach & Plant-based Cooking Expert, NutritionScience.in
Get ready to have a healthy, delicious and soothing soup! 🙂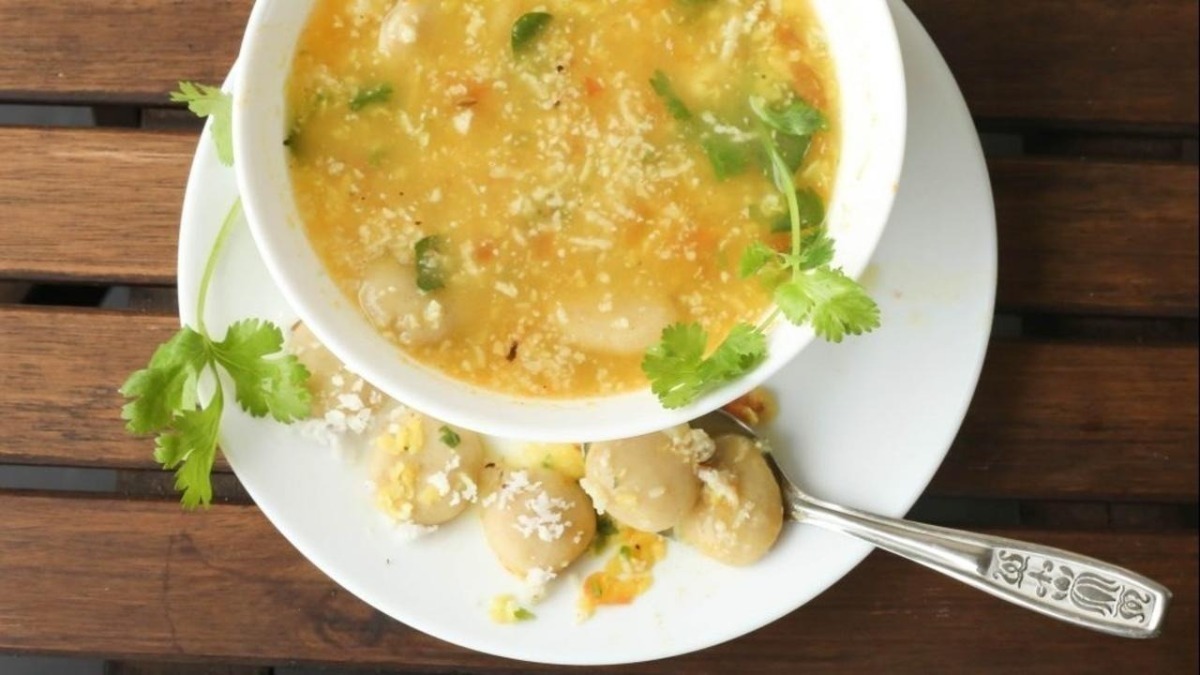 Whole Food Plant Based Jolada Kadubu Recipe
Course: Course 3 (Grain Dishes) at Lunch & Dinner Meals
Cuisine: North Karnataka Recipe from South India
Prep Time: 15 minutes
Cook Time: 30 minutes
Passive Time: 10 minutes
Servings: 4 people
Ingredients
For Lentil Soup
1/2 cup Moong dal / Small Yellow Split Lentils
1 Tomato
8 cloves Garlic
1 cm piece Fresh Ginger
2 1/2 glasses Water
For Garnishing
2 tsp Jeera / Cumin Seeds
1 tsp Turmeric Powder
1/2 tsp Black Pepper
Juice of 1 Lemon
4 tsp Miso Paste (Healthy Salt Alternative. See Nutrition Science Highlights below)
2 tbsp Coconut grated
8 leaves Curry Leaves
1 tbsp Coriander Stems & Leaves chopped
For Jolada Kadubu
1 cup Jowar atta / Sorghum flour
1/4 cup Flaxseed Powder
1 cup Water
INSTRUCTIONS
Handmade Jolada Kadubu / Sorghum dumplings
Heat 1 cup water until it boils.
Mix jowar flour and flaxseed powder in a bowl or on a plate. Make a small well in the middle and pour half the boiling water. Mix with a ladle. Slowly add more boiling water and mix. Once well mixed and cool enough, knead well with hands till it forms a dough.
Make small balls out of the dough and flatten them on your palm. One cup of jowar flour will give 30-40 balls. These are Jolada Kadubu. Arrange on a plate and keep aside.
Lentil soup
Wash and soak moong dal overnight or at least for 30 minutes.
Boil 1/2 cup moong dal with 2 1/2 cups of water on low flame.
While moong dal is being cooked, chop 1 medium tomato into small pieces. Peel and chop ginger into small pieces. Crush Jeera, Pepper, Curry leaves to make a coarse paste.
Peel and crush / grind garlic to a paste. Keep aside for ten minutes. After this, until the dal is cooked, you can use the time to make jolada kadubu and keep them aside.
Once dal is nearly fully cooked, add chopped tomato, ginger, and garlic, and cook till done.
How to Make Jolada Kadubu
Add Sorghum dumplings / Jowar Kadubus slowly to the boiling dal mixture. Once the jolada kadubus are cooked, they will rise to the top.
Once the sorghum dumplings / jowar kadubus are cooked remove from stove and add the jeera-pepper-curry leaves mixture, turmeric powder, lemon juice, miso paste, grated coconut, curry leaves, and coriander leaves.
Wait until the jolada kadubu cools down fully. Serve fresh!
Plant Based Chef Pro Tips for Best Jolada Kadubu Recipe
Similar Kadubu dishes can be prepared using ragi / finger millet flour too.
To make it yummier, add chopped onion and jeera powder to sorghum dough while mixing with water.
One slit green chilli can be added without chopping or grinding to make it spicier!
Dumplings should be added before spices as they take time to cook.
Nutrition Science Highlights for WFPB Jolada Kadubu Recipe
Why Miso Paste? Miso paste is fermented & salted soya bean paste. American Heart Association Maximum recommended maximum daily salt intake of 3.75 grams per person to minimise risk of high blood pressure, stomach cancer and chronic kidney disease. In addition to helping us restrict salt intake, replacing salt with miso paste also helps by neutralising the negative effects of salt by soya phytonutrients. You can easily make fresh miso paste at home by mixing 100 grams of cooked soya paste with 10 grams of salt, or 10 tablespoons of cooked soya paste with 1 tablespoon of salt. If making at home, ensure to use immediately, or freeze in batches to use later. Or, simply use 3.75 grams of salt or less per day per person and add 18 to 20 grams (dry weight) of soya beans in any dishes, spread through the day!
Why whole grains? Whole grains are healthier than refined grains such as white rice, refined flours, maida, rava, etc., as the bran layer is intact, with all its vitamins, minerals, and phytonutrients. Whole grains have been found to be protective against a whole range of chronic diseases, including heart disease, diabetes, and lifestyle-related cancers.
Why cool grains? When cooked grains are allowed to cool on the counter or in the fridge, the starch crystallises to form resistant starch. This can be eaten by our good gut bacteria and also reduces the glycemic index (the rate at which glucose is absorbed), making the whole grain even healthier. For the same reason, parboiled whole grains can be used as well.
Why flaxseed powder? Whole grains are super healthy foods, but whole grain flours, not so much. Because of a smaller particle size, the starch from ground up grains gets absorbed much faster than from intact whole grains, causing a glucose spike and insulin spike in the blood. This is why we recommend coarsely ground whole grains as against finely ground whole grains. When we cook dishes using whole grain flours, it is wise to add an ingredient that makes the dish sticky and slows down absorption. Flaxseed is a perfect addition for making rotis. In addition, flaxseed contains high levels of omega 3 fats and cancer-fighting lignans. For the same reason, eating grain flour dishes with pulses and legumes, such as roti and dal, is a great idea too.
Why nuts instead of oil? Whole foods are healthier than processed foods. When nuts are pressed and oil is extracted, fiber and phytonutrients are lost, along with many other nutrients. Therefore, whole nuts are much healthier than oils, whether cold-pressed or refined. In addition, they provide the oil content we need to absorb fat-soluble phytonutrients from other whole plant foods! This may be why nuts are used to garnish nearly every traditional Indian dish!
.